high quality whole slow juicer, kuvings
Kuvings Whole Slow Juicer
One of the only whole slow masticating juicers available on the market
Description
What is the Whole Slow Juicer?
The slow juicer from Kuvings is a whole slow masticating juicer. It uses technology that guarantees more minerals and vitamins while minimising the separation in juice.
Why Choose the Kuvings Juicer?
We have selected the Kuvings Whole Slow Juicer because it is one of the only ones on the market that uses a slow speed masticating system that preserves all the healthy enzymes in juices unlike other juicers that crush and tend to kill enzymes. This ensures that you get all the benefits of juicing.
The advantage of the slow juicer is that you get great flavour while absorbing more enzymes, minerals and nutrients from raw fruits and vegetables. Our bodies need "phytochemicals" which are naturally produced by plants growing under the sun. Drinking lots of phytochemicals from colourful fruit and vegetables has antioxidant effects.
Furthermore, the juicer has a powerful motor that can run up to 30 min. Unlike other juicers it has greatly reduced noise and vibration.
The Kuvings slow juicer has an optional accessory to enable you to make frozen desserts and smoothies.
Kuvings Slow Juicer Advantages
The Kuvings Slow Juicer is an easy to use juicer unlike the other ones previously on the market.
It juices whole fruits and vegetables and the cleaning process is very easy.
After use the specially designed patented tool and brush will ensure fast, easy cleaning. What more can you ask?
How to Use
The Whole slow juicer comes with a complete user manual that you need to read carefully before operating it.
All parts must be assembled properly in the first step, with the second step of locking the lid the power switch is activated.
It's important to never run the juicer without contents.
The Kuvings juicer is made to obtain the best result from ingredients that have a firm composition and have a high water content.
To juice fruits like nectarines, mango, peach or any other fruits that have hard seeds, remove the seeds before juicing.
Peel skins from pineapple, mango etc beforehand.
Completely thaw fruit before juicing and do not use ice!
Peel the skins from the ingredients before juicing.
Do not put any animal greases such as butter or margarine and no oils, such as sesame seeds or extract in the juicer, as this may cause damage or reduce its performance.
Hand-wash removable the parts with warm water and mild detergent and dry thoroughly before assembling.
Weight: 9.5 kilos packaged. It comes in red, silver and white
An accessory, Frozen Smoothie and Dessert Maker is available

Guarantee, 5 years for the motor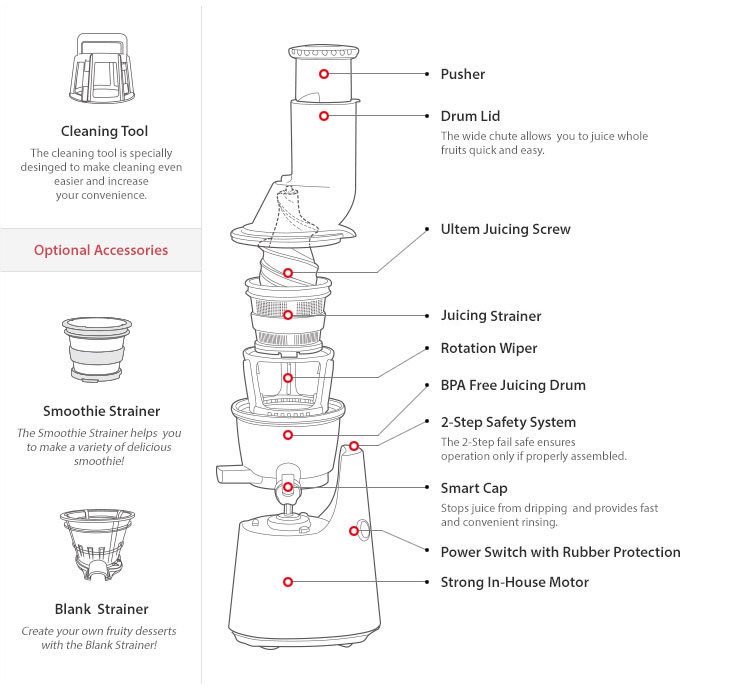 Units in box: 1