Healthy Recipes
recipes, healthy nutrition
At Vigorfield we strive to bring you the best in nutrition. That's why we share recipes that will help promote a healthy lifestyle.
What we put into our bodies is very important as the mind and body are one. So a well nourished body will perform better both physically and mentally.
We search for apetizing recipes that are easy to make and which will be savoured by your whole family.
It our pleasure to always search for the best and accompany you in this fulfilling journey.
Stay fit and stay healthy!!!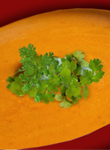 Details

Category: Healthy Recipes
A fragrant and wholesome soup.
Studies have suggested that the consumption of lentils could decrease heart disease, obesity, diabetes and even promote healthy hair and complexion.
Lentils contain folic acid, fiber and pottasion all beneficial for heart health. Furthermore they have essential vitamins, minerals and are a good source of protein for anyone seeking to replace meat in meals.
Read more: Lentil Soup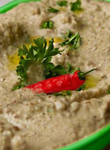 Details

Category: Healthy Recipes
A delicious and wholesome dip, easy to make and a true delight.
100% vegetarian, alkaline ingredients fitting 100% for the alkaline diet.
Eggplants are a rich source of vitamin C, vitamin K,vitamin B6, thiamin, niacin, magnesium, phosphorous, copper, dietary fiber, folic acid, potassium, and manganese.
Read more: Babaganough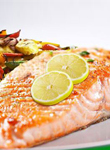 Details

Category: Healthy Recipes
Not only tasty but takes just about 20 minutes to cook, is healthy, and is very easy too!!
Salmon is rich in Omega-3 Fatty Acids, which is good for heart health, better eyesight, brain and neurologocal repair, bones and joints and healthy skin just to mention a few. The carotenoid anti-oxidants of astaxanthin found in salmon can greatly reduce the effects of free radical damage which causes aging. It's high in B vitamins, potassium and is a great source of protein.
Read more: Oven Baked Salmon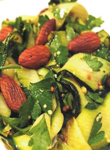 Details

Category: Healthy Recipes
This zucchini delight recipe will only take you 15-20 minutes to make.
It has very few calories and zucchini is an outstanding source of manganese and vitamin C. It is a great source of dietary fibre that will keep your body in great shape. It also contains vitamin A, magnesium, folate, potassium, copper, and phosphorus.
Garlic contains a compound called allicin, which has potent medicinal properties,
it is highly Nutritious and can combat sickness, including the common cold. As for almonds, they contain lots of healthy fats, fibre, protein, magnesium and vitamin E.
These are just but a few of the benefits you will get from this meal.
Read more: Zucchini Delight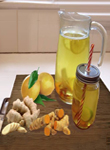 Details

Category: Healthy Recipes
Lemon water is a great way to start your day and has numerous health benefits. Also a great drink to sip throughout the day.
Lemon a powerful antioxidant loaded with vitamin B, phosphorous, kick starts the digestion and reduces inflammation. Ginger contains Gingerol, a substance with powerful medicinal properties. Can treat many forms of nausea, especially morning sickness and may reduce muscle pain and soreness. Turmeric is an anti-inflammatory, antioxidant and is said to enhance brain function. These are just a few properties of these ingredients! And water? We simply cannot live without it...so drink up!
Read more: Energizing water
Disclaimer: FairTech Ltd does not claim or imply that their products diagnose, treat, cure or prevent any disease.